My time in Malaysia was way to short for this neat country.
My top reason for you to go is the FOOD. Plus if you can time your visit around the Islam holiday of Ramadan, you will be in for a treat!
I flew into Kuala Lumpur (airport 2). The airport is connected to a mall so once you exit and go through the mall you can get the bus into the city center. It is 12 ringgit (RM). There is a train that takes 30 minutes for like 40 or so, but I took the bus both ways. First, was about an hour and half due to traffic and the second was a bit short of an hour.
It drops you off at KL sentral or the central station for all transportations.
There is another bus station called TBS that is a bit outside the city, but some buses go to and from Sentral.
KL is another big Capitol city. There isn't much to do and I recommend maybe 2 or 3 days.
I stayed at Sunshine Bedz and I would recommend it as it is quite comfortable and is very social. However, the owner did make me feel uncomfortable. I recommend the hostel itself…not necessarily the staff.
I got together with a lovely woman from England, L, and basically traveled a week with her.
Here are the top sights, at least that I saw. Most of them we walked to.
Mosque Jemak

– a beautiful mosque near Chinatown.
Mosque Negara

-huge mosque and near it is the Islamic Arts museum that I didn't go to, but I heard is very nice
Chinatown with Petaling street and Central Market

– nice food and shopping, evenings are the best
Near this area and mosque jamek is a square and a beautiful building that's worth taking a picture or two.
Batu Caves

-this is outside the center and cannot be walked to leisurely. We went with another British woman and took a Grab (like uber) there and then took the transportation to Chinatown.
Petronas Towers

– we went during the daylight to take pictures. At the base there are men selling lenses to put on your cellphone to help with photos. They usually give you one free photo test. We took one from the back and one from the front so we got 2 free hehe
We also went to Sky bar which is close and has a great view of the towers.
Now, on Wednesdays it's ladies night so free drinks. Sky bar has theirs from 6-9 so we went to watch the sunset and the towers light up.
We were joined by a fun woman from the Netherlands.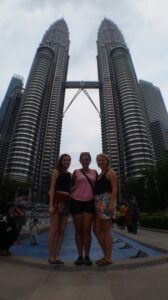 Jln Alor

– I met a friend in the USA that lives in KL so he joined us for dinner on this food street. It was cool to see him after these years and get the local perspective on food.
Kampung Baru

– this neighborhood is known for colonization and food. The buildings itself aren't the greatest, but there are many food stalls and restaurants. Since it's a bit outside city center the prices are cheaper. Most were self served and you pay per item. Was extremely delicious.
Typical Malaysian food is eaten with the hands and as a half Filipino, I joined them eating with my hands. L and the other woman weren't so keen even though several days later L learnt how to do it and enjoyed it :)
From KL, L and I ventured to Melaka, which is also spelled Malacca.
This small town was absolutely adorable and my favorite out of the 3 I saw. The history starts with the Asian community (Chinese, Malaysian, etc) then the Portuguese came, then the Dutch, then finally the British.
Malaysian gained independence after World War 2.
Melaka, to me, is split between 2 sections. The Dutch part and on the other side of the river, Chinatown.
My favorite part was walking along the river and Chinatown especially Friday and Saturday nights with the night market.
In total, L and I walked so much. About 15 miles every day in the heat.
Everything is pretty walkable….
One site I recommend in Melaka is the floating mosque. It's outside city center and we took a grab back, but since it's right on the water, the sunset made it look stunning.
With all these mosques, they give robes and hijabs to the tourist women. Some men are required to wear the robes as well.
It was funny because in KL I had 2 men from Egypt in my room and we spent 4 hours one night talking about Egypt and they mentioned sugar cane juice. I saw it in this night market and had to try it.
KL is expensive in terms of food and in relation to the other cities.
A set meal in KL can be more than 15 rinnggit. In other places it can be between 5-10.
I stayed at River One Residence. I wanted to stay in the hostel with L, but we booking a bed, it said it was full so I went somewhere else. Which I really liked. It was right on the river and so I was able to have breakfast in the hostel watching the river.
The owners were super nice as I was the only one there the first night and the next day they let me take a shower before my night bus.
They even asked if I could check someone in while they were at dinner. The person didn't show up while I was there, but the trust they put into me was kind of awesome.
It was strange the night I slept there because around 1 am it sounded like a movie set outside with someone shouting action and cut and moving locations.
But I highly recommend this place!
Another special point about Melaka are it's tricycles. All the drivers have decorated them with popular children cartoons like pokemon or hello kitty.
We paid 25 RM to ride 15 minutes on one with music. You can hire one the whole day if you like. They are also lit up at night.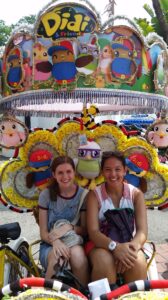 Here are some foods to try in Melaka:
Cendol

– a dessert. I honestly have no idea how this was created nor why it's popular, but it's worth a try once.
Laska
The bus station is a bit far from city center and there is a public bus, but I have never seen it. We took a grab with 2 other women from the station to center and I eventually had to take a grab back because it never showed up in an hour.
Buses in Malaysia are quite nice and spacious. I couldn't complain except that I was a bit cold for my ride up to Penang.
There are 2 ways of getting to George Town.
1. Get off at Butterworth and then take the ferry (faster).
2. Get off on Penang island and take a public bus.
I didn't know about option 1 so I did 2. I had to wait at the bus station for an hour waiting for this public bus. Luckily it was 6am so I didn't have anything else to do.
Unfortunately I was stuck with a crabby German one. She was complaining about everything….one discussion last 30 minutes about an 8 year old Indian girl that was gang raped and killed.
I sympathize, but at 6.30am I don't really want to discuss this topic.
I eventually made it to my hostel (without her). I stayed at House of Journey and it was nice. The common area isn't too comfortable nor big, but it's social and the beds were fine.
I had to wait till reception opened and there was a couple from Belgium waiting. They took option one so they got there a lot faster.
George Town is quite small and so I did a lot of it that day. The sights to see are:
Street art

– there are 2 types of street art, one is metal designs that give a history of that street or area and the other is nice graffiti on the walls and sometimes have actual objects like a chair incorporated into them
The tourist maps have them listed, which I didn't like because you couldn't really stumble upon one like in Melaka.
Blue mansion

– the house itself is ok, but our tour guide made it awesome! The owner was a poor immigrant from China who became rich and basically everything in the house was symbolism for money.
Perkanan museum

-another rich person's mansion, but this was go at your own pace and it was viewing more the objects of the wealthy.
Jetty

-strips of land, like docks into the water and houses on stilts along them. They are still used today and some have souvenir shops etc.
Chinatown

-street food and cheap restaurants
Little India

-cheap food. Be sure to check out Banana Leaf restaurant for all you can eat curry, vegetarian option 6 ringgits.
Eating in general

-for sure, this is a must in Malasyia!
National Park

-I didn't go. But if you like hikes/walks and beaches I think this would be perfect for you.
Penang hill

– also didn't go as it's either a major hike up or 30 ringgits for the cable car. My hostel says it has great views, but another view option that's cheaper is:
Kek lek si temple

– this is the biggest buddist temple in SE Asia. It is pretty big and more like multiple temples in one compound. You can take a cable car up or walk up the hill for 5 minutes for free.
Beaches

– the national park has some as well other towns on the Penang island. Georgetown is the jumping off point for Lankawi island and going on to Thailand.
I stayed at House of Journey and it was comfortable and social. Just the common area was a bit small, but I still ended up meeting several people.
Like the rest of Malasyia there is ladies night and one bar, Reggae bar, has it every night until 9pm.
I returned back to KL and stayed at the same hostel. It was fun, but something happened that I will probably never stay there again, but the hostel itself is lovely.
I met an older man from Australia who has lived and traveled in many parts of the world and a young woman from Argentina. It was nice speaking Spanish again after 2 months of not.
My last night was the start of the Muslim holiday Ramadan and with this lots more food market stalls appear on the streets. This holiday has those that practice as fasting during the day and once the sun goes down, they can eat. The food was super delicious! I'm glad I got to experience it :)
I took the bus back to the airport. Now, I knew someone else in KL, but due to variety of reasons, we couldn't meet.
Well, while at check in counter at the airport, who should be there, is her! I hadn't seen her since 2011 so it was nice to have this random 5 minute chance encounter.
My time in Malaysia was short, but I'm so glad I went because I definitely know I want to go back and spend more time! I highly recommend it.