Mexico City is the biggest city in Mexico and one of the biggest/most populated cities in the world. And it is just getting bigger – more information later on!
With this in mind, we thought 2 weeks was perhaps not long enough. Well, it was just right for our style!
Here are the things we did and saw in our 2 weeks in Mexico City and I hope it helps you plan your time! For information about trips around Mexico City, please see this article.
Getting Around Mexico City
There are numerous bus stations around Mexico City if you are arriving by bus. However, the majority of people probably arrive in Mexico City via the airport.
The airport is a very long strip to the North East of Mexico City. The domestic terminal is at one end and the international is at the other. So you can walk back and forth without leaving the airport. But, make sure to know which terminal is what.
Leaving Mexico City to Guadalajara, I was flying domestic, but my plane was leaving from the international section because of the contracting with the company (Viva).
From the airport and from any bus station, there is a metro stop close by. There is also the metrobus – a bus that acts like a metro, but I found the metro (underground/train/etc) was more available and easier for the tickets.
You can buy paper tickets from the ticket booth – it is about 5 pesos per ticket, at the time of writing. However, if you want to take the metrobus, you will need to purchase the rechargeable electronic card (that can also be used in the metro).
We found that it wasn't worth it to buy the card so the tickets were fine for us!
The lines are pretty easy to follow – plenty of signs.
The only thing to note is that sometimes the change from one line to another can be a far walk and it might even be worth it to just walk on the street (outside). Just a note.
This being said, I highly recommend the public transportation to get to the following places!
For History in Mexico City
Being the capital of Mexico, Mexico City holds a lot of history – from the Natives to the Spanish to Modern day.
You can spend several days just visiting all the different museums dedicated to history (not to mention all the art museums).
However, here are a few museums that should be on your to-do list for your visit to Mexico City and what I did as well!
Museums
Make sure to plan your day accordingly because these museums are not near each other in Mexico City. The public transportation is great – but it can be a long journey.
Side note: Museums tend to not have change – they prefer exact change when paying for tickets. It really amazes me and frustrates me because these are government run museums and are heavily visited, but they have no change….You are warned.
Archaeological Museum
This museum can literally take you all day. It is HUGE! It is split into 2 floors – the bottom is more archaeological and the 2nd floor is more the ethical / cultural items.
Your ticket allows you in and out privileges for that day. So get there early – there will be a line even at the opening hour. This in and out privilege is helpful for lunch because you cannot eat inside (unless it is at their restaurant).
Frida Kahlo's House
One of Mexico's idols, is Frida. I personally don't understand it because she was a self-proclaimed communist with Mao and Stalin pictures over her bed who killed millions of people, but OK.
She also made a lot of self portraits so I don't really understand that level of narcissism, but if Frida is your thing – make sure to buy tickets online and get there early.
They have lines for the different entrance times. And, being such a strong COMMUNIST – her museum entrance prices are the highest I have seen in all of Mexico. So…she/whoever is now running her estate isn't really a communist.
HOWEVER, the area where Frida's house is located in Mexico City is really cute! (Probably because a lot of foreigners have invested money there (not communism again)). The place is called Coyoacan.
Make sure to walk around before or after your museum trip. OR if you don't have interest to seeing the person who worshiped murderers of innocent people (sorry, yes I am judging Frida and her followers), this area is still nice to roam around!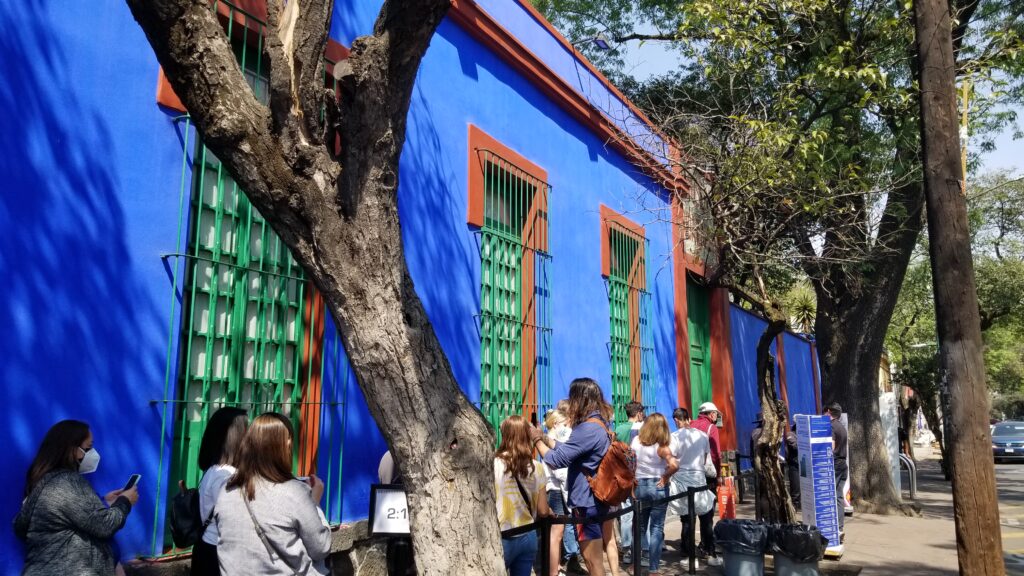 Zocalo
Zocalo is the biggest/main plaza in Mexico City. I say main as in main in the downtown area/historical area. It is a huge plaza with the cathedral on one side. The cathedral and other buildings in Mexico City are tilting – it is interesting to see.
They are tilting because Mexico City is built on a lake. When the Spanish came, the Aztecs were living on a lake basically. Anyways, soil from the bottom of a lake isn't the most secure.
Many protests happen in Zocalo. I was there during the International Woman's Day and there was a huge protest – and destruction of the city. In fact, the city officials put up barriers to protect historical buildings and monuments. There is a long shopping street near the Zocalo and the shops were boarding up their windows.
YEAH FEMINISTS!!! Completely PEACEFUL as the mainstream media would say….
Anyways, be sure to keep an ear out for a protest and make sure to stay away for your own safety. Let's not get injured in Mexico :)
There is another museum there, National Palace, but when I was there – it was closed.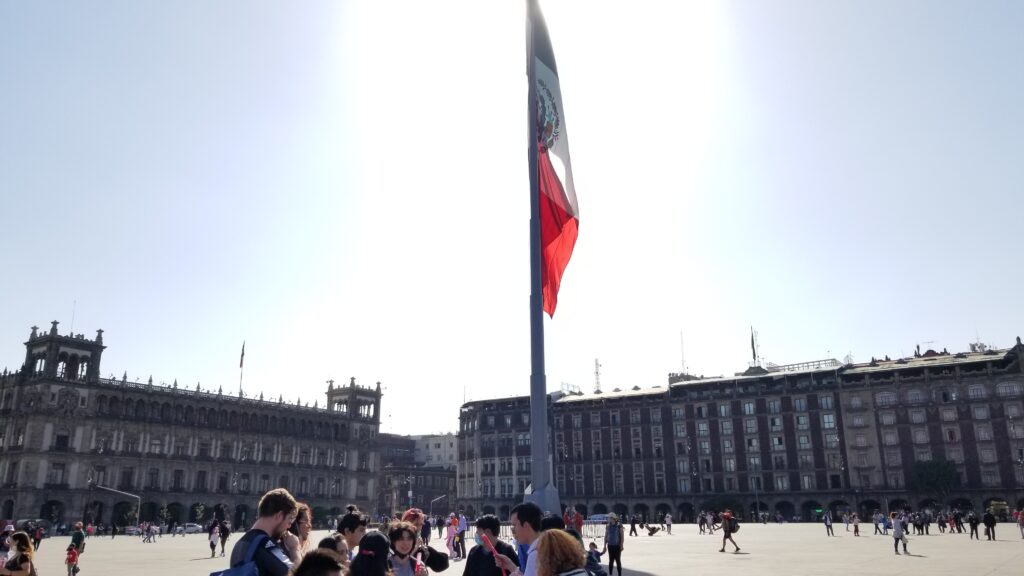 Templo Mayor Museum – Ruins
Off the Zocalo are some ruins of the old Aztec city called Templo Mayor. Once the Spanish took over the city, they did their best to destroy the old city. However, the buildings were rediscovered in the late 20th century and have been restoring it bit by bit.
It is definitely worth the visit even though you have seen other ruins because all the items found are right there (instead of a separate museum miles/km away).
What I really liked about these ruins is that you can see some unique carvings and see some plumbing/sewer systems.
I have seen a meme online that said our modern history books make it sound like Native civilizations were dumb and not tech savvy. But the meme, and I agree, that this is wrong. I remember learning that Native civilizations like the Aztecs were uncivilized. Which, I mean, killing people as a sacrifice is pretty barbaric, but, they did have awesome technology and systems in place.
It was a good museum to go through – I learned a lot. It took around 2.5 hours to do the ruins and the attached museum.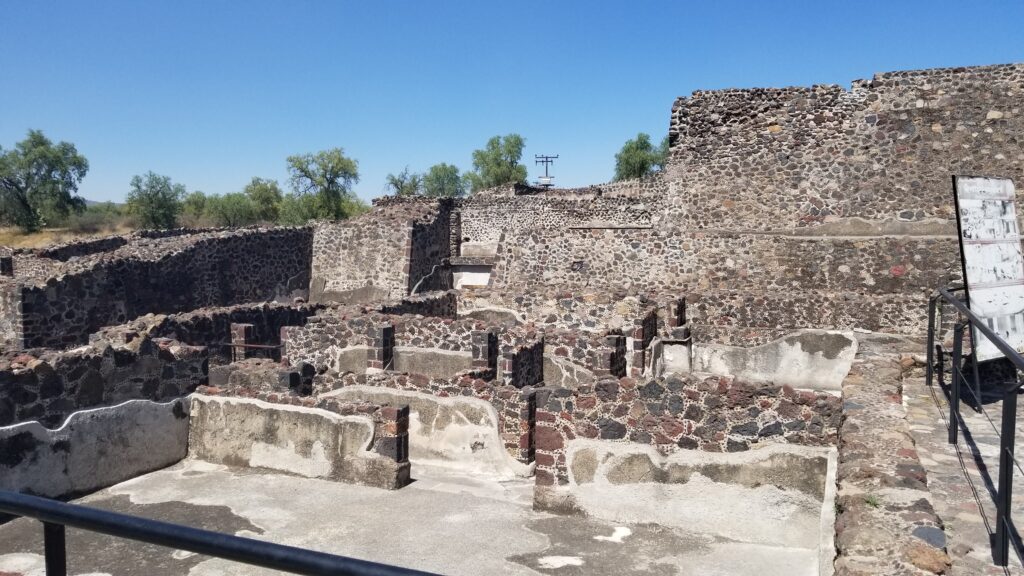 Bellas Artes Museum
About 25 minute walk (maybe up to 40 minutes) from the Zocalo, you will find the Bellas Artes Museum. This, honestly, was a bummer.
I was expecting a long museum visit, just like the other ones. It took us 30 minutes. Most of the building is dedicated to theater performances (so it is a theater). There are like 5 rooms dedicated to art – but it was more modern art.
If you like art and like architecture, check it out, but don't stress if you don't see it.
Chapultepec Castle – History Museum
If you want to make a huge day (I don't recommend), you could visit this museum right after the Anthropology museum. They are very close together. The metro stop is of the same name. This is located in the Bosque de Chapultepec or Forest of Chapultepec.
If you have limited time in Mexico City, this could be at the end of your list or not at all. However, if you are there for 2 weeks or more (like us) then definitely check it out!
Triple check the opening hours because there was some confusion. Also, make sure to get there earlier than you planned because there will be a line to get in.
The museum is separated into 2 parts. There is the history museum of Mexico City and of Mexico and then there is the museum about the castle and the royalty who stayed there.
Yes! There was royalty. Mexico has had a lot of political changes through the years. At one point, they invited the royal family of Austrian-Hungarian empire to be king of Mexico. This lasted a few years, but still.
The castle itself is beautiful and offers great views of the city as it is on top of a hill.
Important to note: you cannot bring anything bigger than a purse into the museum and you will need to rent a locker. You will need to rent the locker from the ticket booth. Tell them you want a locker multiple times, the ticket people need it very blunt otherwise they think you don't want one????
I told the lady I want to rent a locker. I even gave her the money. She gave me back the money and said go to the lockers. So we went and after 5 minutes of confusion, I had to go back. I told her I wanted a locker and she got mad at me because I asked already…? Anyways, they aren't the smartest, so be blunt and as clear as possible.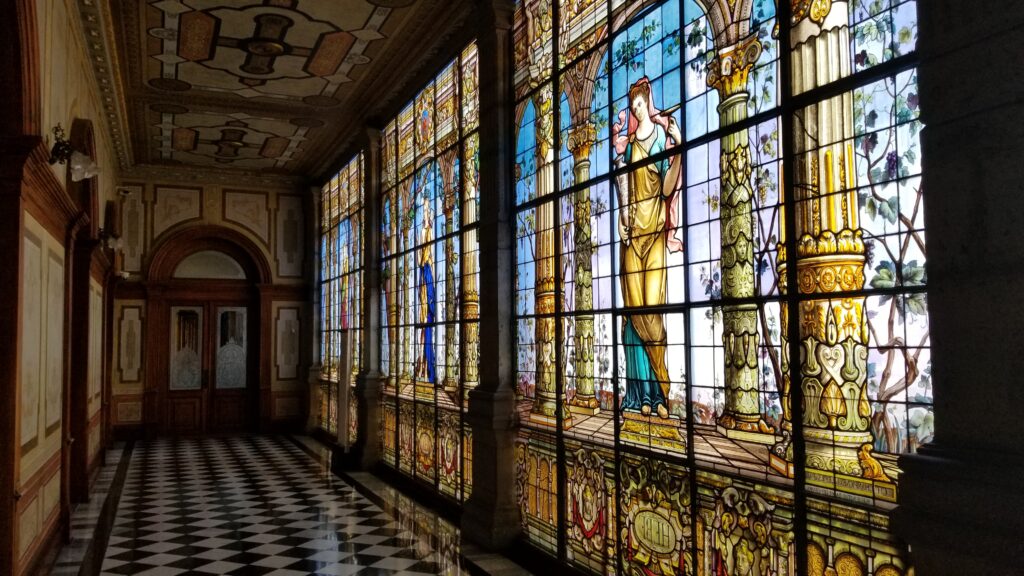 Murals by Diego Rivera
Most people have heard of Frida, but not many have heard about her lover, Diego Rivera. While Frida is known as a narcissist, who loved mass genocide dictators, who created self-portraits – Diego liked murals that featured a lot of communist ideas from the mass genocide dictators.
We did not go into her house that has portraits of the dictators that have committed mass genocide based on racial and religious lines (if you haven't gotten it by now, I do not approve of people worshipping her or anyone who worships bigoted and racist communist leaders).
But, we did go see this ONE mural from Diego. It was labels the Mural museum. I thought it was just a typo. But, it is literally ONE mural. This one:

It is quite large and therefore impressive. You have to pay extra to take pictures, but overall, it isn't that expensive. It used to be homed in a hotel. But with one of the massive earthquakes, the hotel was destroyed and the city was able to salvage this mural and store it in this museum (solely constructed for this mural).
If you really like art by people who worshipped dictators that committed mass genocide based on racial and religious lines, go check it out. But there are better things to do in Mexico City. For example, right outside this museum are some street food that is delicious as well as some other stalls selling different things. There was also a chess club happening that had a lot of people gathered.
There are other museums featuring his murals, but you will have to search a bit for them. There is only this one for HIS mural.
Basilica de Santa Maria de Guadalupe
I have traveled a lot through Europe, Asia, and South America. I would have to say, this particular basilica is not the most impressive in terms of beauty. It is impressive in terms of size.
This area is interesting because the old basilica is right next door and it is leaning. Mexico City was founded on an old lake bed and so the ground is not as firm as other places. It is also cool to see the modern church next to the older church.
The church is free to enter, but it is nice to contribute a donation.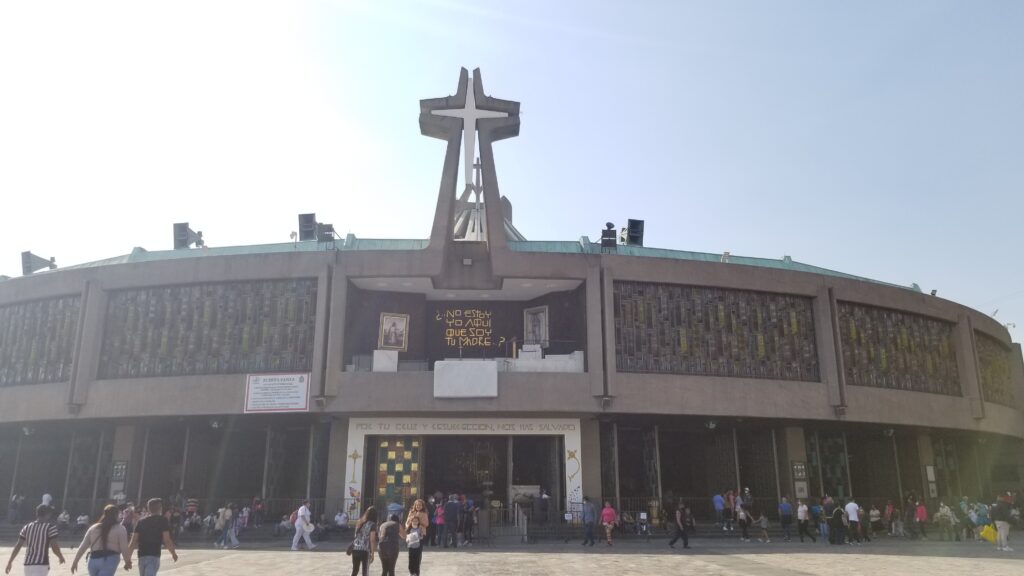 Chocolate Museum
This was a fun museum to attend! I recommend it! We arrived just in time to join the next tour. All tours, I believe, are in Spanish. But our lady did a great job explaining every room and the items in each room. Sometimes tours only say the same thing as the panels. But, this tour actually gave way more information than the panels.
One of the rooms that give the chocolate museum some fame is the chocolate room. It is covered in bars of chocolate and it smells delicious!
From the metro, take Cuauhtemoc stop and walk a few blocks. This area is nice with different cafes and shops. It is very foreigner centric. After the tour, you can stop at their cafe to pick up some chocolate drinks. I got the spicy hot chocolate, which was delicious! It is expensive (for Mexico), but hey, you are at the museum.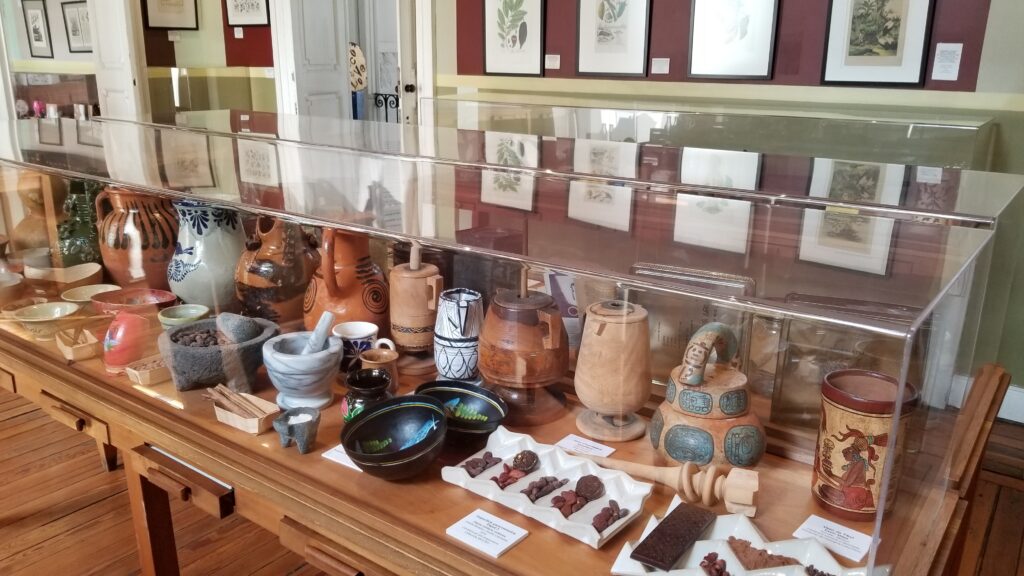 For Shopping in Mexico City
Mexico City is very big and has a lot of opportunities for shopping. There are numerous markets for souvenir items, markets for locals, and regular corporate stores.
I love walking around and getting lost and that is when you will find the best markets and shopping opportunities.
Around 30 to 40 minute walk from Bellas Artes is Chinatown which has more local shopping – it is cool to see.
Shopping Street near Zocalo has more brand name stores and banks if you need change for those museums. The restaurants right on the street are a bit expensive for Mexico, but if you go to one of the side streets just off the main, you will find normal prices for Mexico.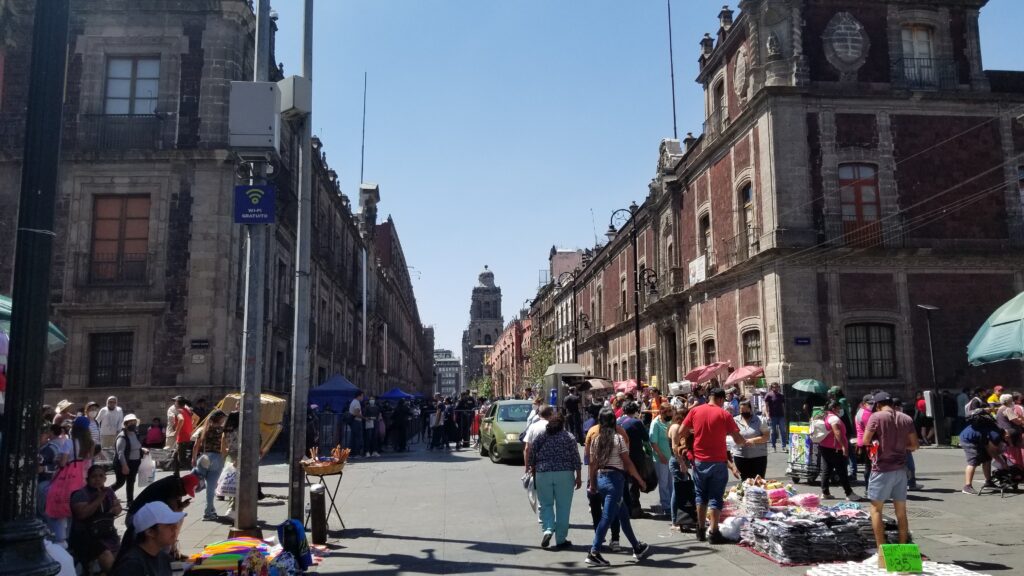 For Entertainment in Mexico City
Besides the nightlife and numerous bars, one of the top things to do for entertainment in Mexico City is go see a Lucha Libre.
Lucha Libre fights are basically American wrestling – very coordinated and acted. But, they are pretty cool. Especially if the actors do more gymnastics.
There are 2 main stadiums in Mexico City. The recommended one to tourists is Arena Mexico. You can get a tour to go, but you can go by yourself. We walked back from the stadium to our Airbnb around 11pm and we were perfectly fine. I didn't feel unsafe at all. Just FYI.
Food and beer prices in the stadium was not that expensive – it was reasonable for stadium food.
I highly recommend to see at least one fight night – especially if you have never seen one before.
We got middle seats (honestly, I think we had the best seats) for about $150-200 mxn pesos. We bought them on spot about an hour before. But you can pre-buy for sure.
We got to see a few rounds of male fighters and then there was the females at the end. Both were impressive, but the males had more tricks.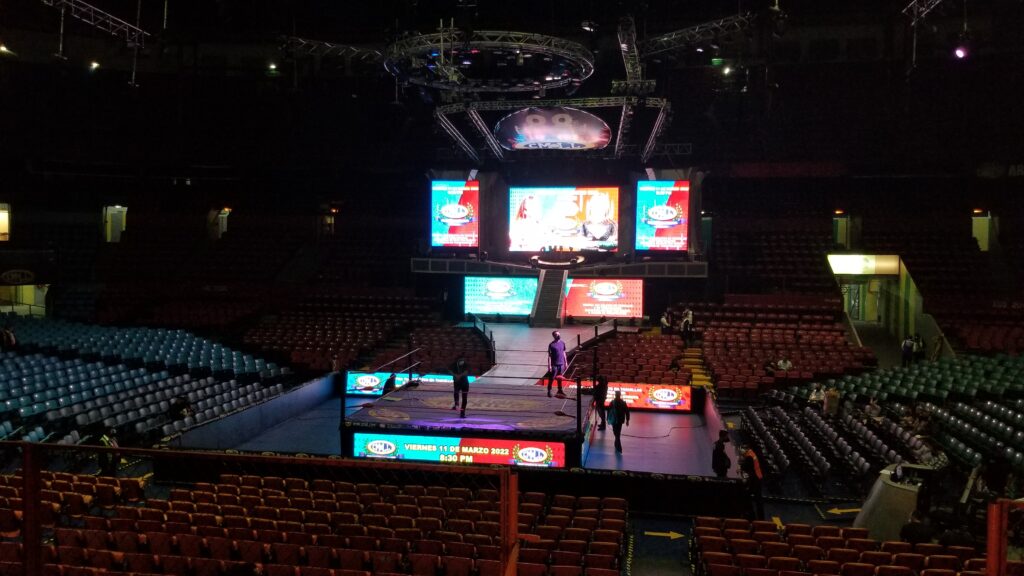 Have Fun!
If you have questions, feel free to leave a comment below or send me a message! I am happy to chat more about your trip to Mexico City. Don't forget to pin and share!
See you in another article!