We had the privilege of being in Guanajuato at a friend's house for 3 weeks. This gave us plenty of time to explore the city and do some weekend trips.
It excites me to share it with you because Guanajuato is a fabulous place to go and definitely worth it! At the time of writing, it is one of my favorite places in Mexico!
How to Get to Guanajuato
Guanajuato is pronounced "Gua-na-wa-toe" and it is more or less in the middle of the country. They do have an international airport about 20 minutes from downtown in another town called Leon. The airport code is "BJX" and I bring this up because it was confusing to me.
A taxi will be around 500 pesos plus. Make sure to try to get a uber which will be around 300 pesos.
If you are renting a car, double check where the company is located because they might not be at the airport – the airport is small so they might have their "booth" across the highway. Don't worry, they will send a driver to pick you up.
However, if you don't have cell coverage, the information booth in the airport will call for you. The pick up is next to the taxis outside.
Guanajuato: Things to Note
Guanajuato is a town on a mountain/valley. You will have to "go down" into downtown and, unless you have your accommodations in downtown, you will need to "go up" to go home.
Because it is an old colonial town, the streets are narrow and cobblestones. Walking can also be tricky because the road is uneven.
You can drive around, but because of the narrow streets, parking can be difficult. In downtown, which is more of an "old town," there is parking garages that you pay per hour, but if you live in a mile radius of downtown, you don't need to drive.
Like anywhere in Mexico, Guanajuato shops require cash. The more fancy restaurants and shops will accept card, but if you are looking for more of a local feel (aka not fancy), make sure to bring cash. Also, when withdrawing cash, try NOT to use BBVA because they have high withdrawal fees.
Banorte is reasonably priced and Santender.
Things to Do in Guanajuato
Guanajuato is a town I would like to call "you visit to experience" rather than "visit to see." What I mean by this is that you go and experience the day to day life and culture. There are things to do as a tourist, for sure, but it isn't like one of the beach cities or Mexico City.
This town is more calm. In fact, you don't see that many foreign tourists. Most are Mexican tourists.
This all being said, here is a list of the top things to do from a "seeing" perspective.
Downtown
Because I mentioned downtown already, I want to discuss it first. The center of Guanajuato is quite small. You could walk the main streets of it in an hour or two if you are moving slowly.
In good typical Spanish fashion, there are plazas everywhere. Take time to sit and people watch!
One plaza holds a mini park and many restaurants. A little off the plaza (but still right there) is a theater in a baroque (I think) style. It is a very beautiful theater. But I mention this plaza because it holds a lot of street performers at night as well as mariachi bands. You can eat in one of the restaurants and enjoy the traditional Mexican music.
Also in the plaza is Guanajuato's most expensive restaurant as well as a Starbucks. This plaza was clearly made for tourists.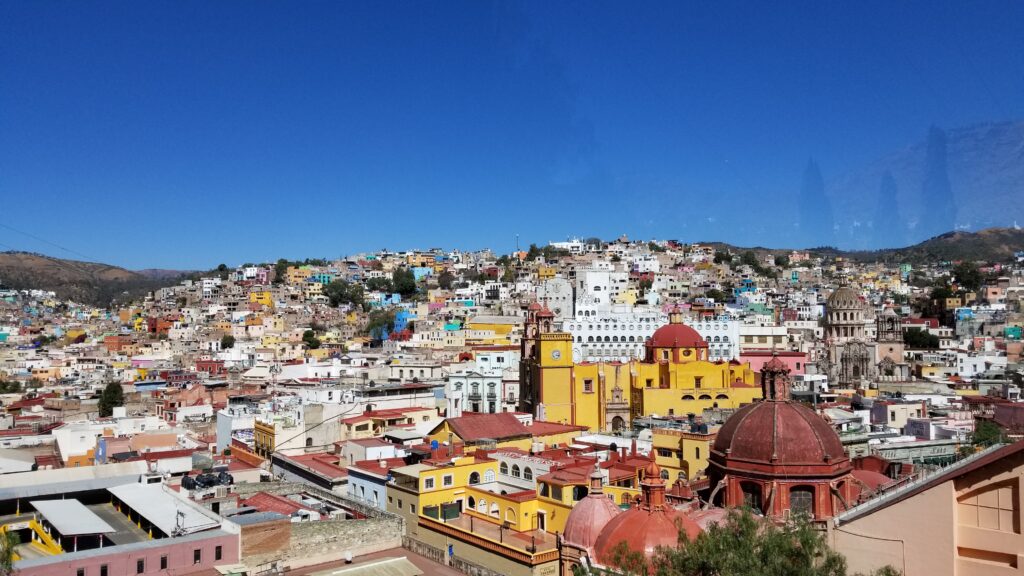 The Market
A little away from this plaza is the "main" plaza as I like to call it because it holds the market. This market is homed in an old building – it looks like a train station. You can find anything there from clothes to food to restaurant booths.
The food is absolutely delicious and right next to the train station looking building is another restaurant filled building where people will be shouting at you to try THEIR food. It is a fun thing to experience.
If you do go to the market, head over to the one of the corners in the downstairs part – you will see a party supply store – that belongs to the family of our friend. So definitely give them some support!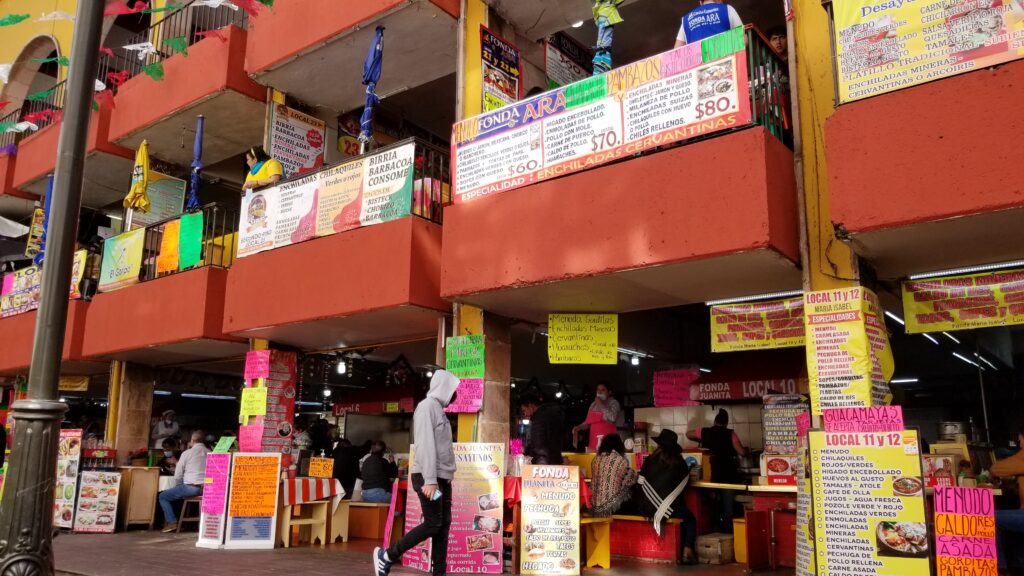 Pila
This is a monument and it stands directly above the downtown area. From the theater plaza, you can see it lit up at night.
Pila is basically a man. But he is from legends of someone helping the native people. The view from his base is great of the city and there are more souvenir shops above. But, they are more expensive than the ones in the old town.
A View from the Mountain
Not too far from downtown, is a mountain that you can hike. I recommend going with a local because there are no signs. One could figure it out, but it might take you longer. The view from this mountain is incredible and the hike is intermediate, but worth it.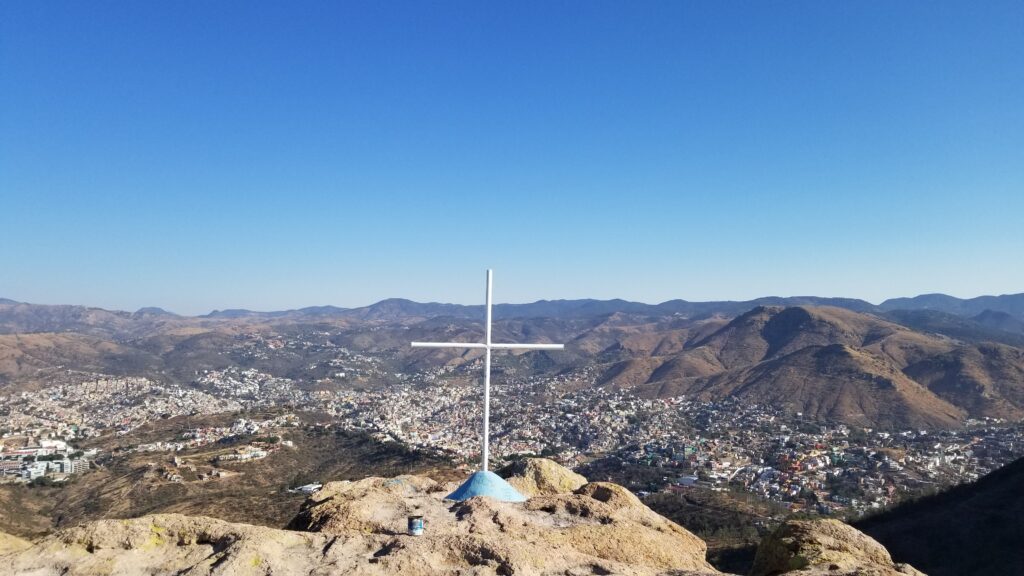 Mommies Museum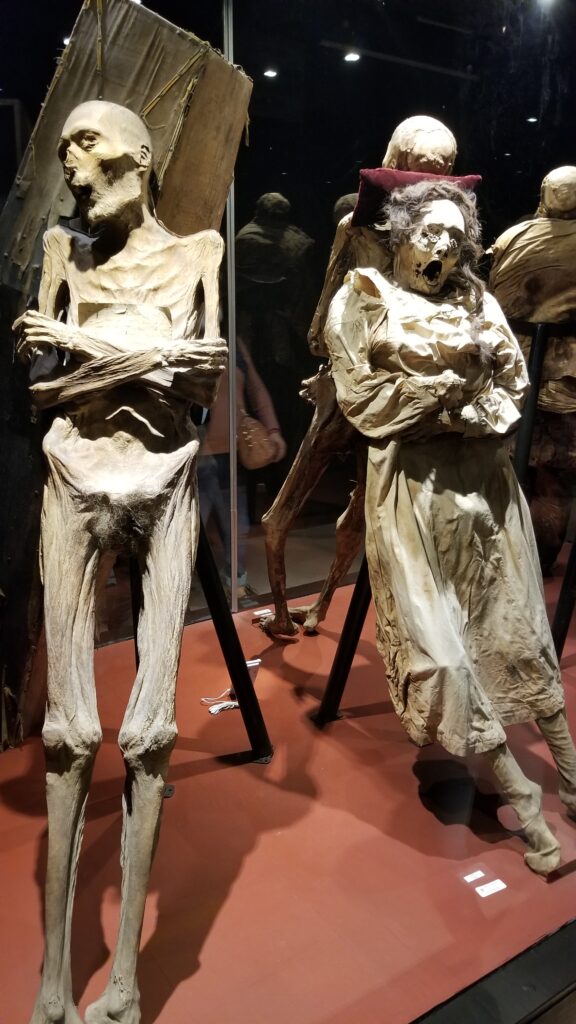 Pueblos
Surrounding Guanajuato proper are "pueblos." I believe they are technically, now, part of Guanajuato because the city has expanded, but they still have their original town form.
To the East of Guanajuato center is another town that sells jewelry – silver. Mexico is known for their silver so you can stop by and check them out.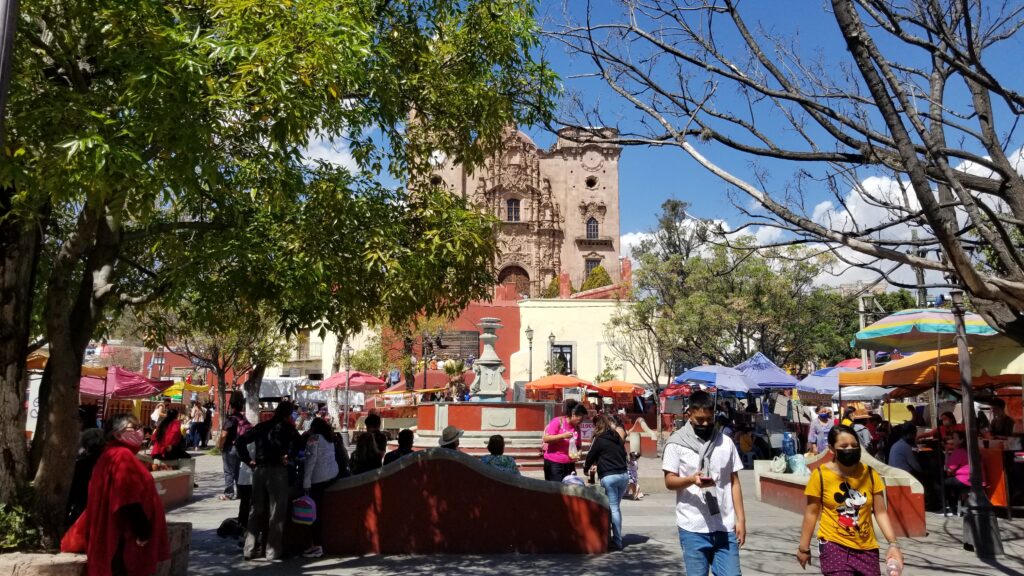 Weekend Trips
These weekend trips do not have to be done from Guanajuato. They can be done from Mexico City or you can stay there for longer than a weekend if you like. But, this is what we did. For the following, we rented a car and drove, but for the bigger places there are buses to get you to and from.
First Weekend Trip
Our first weekend, we went to the following places:
San Miguel de Allende
Queretaro
Dolores
Pyramid Ruins
San Miguel & Queretaro
San Miguel and Queretaro are about 2 to 3 hours away from Guanajuato and on the other side, it is about 2 to 3 hours from Mexico City.
Queretaro is a bigger town than San Miguel; however, San Miguel is a lot cuter. This is probably because there are a lot more foreigners there who bring in foreigner money.
San Miguel is similar to Guanajuato in terms of shape – it is also on a mountain where you have to go "down" to the city center.
There is a great churros and hot chocolate place not too far from the main plaza – definitely check it out. If you are here for around 24 hours (rather than a few hours) be sure to wander around the town – going outside the city center because there are so many cool streets and restaurants. The farther you go – the cheaper the prices are.
Queretaro has a few things to see such as an old aqueduct and some markets to buy whatever you like. There are nice colonial streets you can explore while looking at the different churches.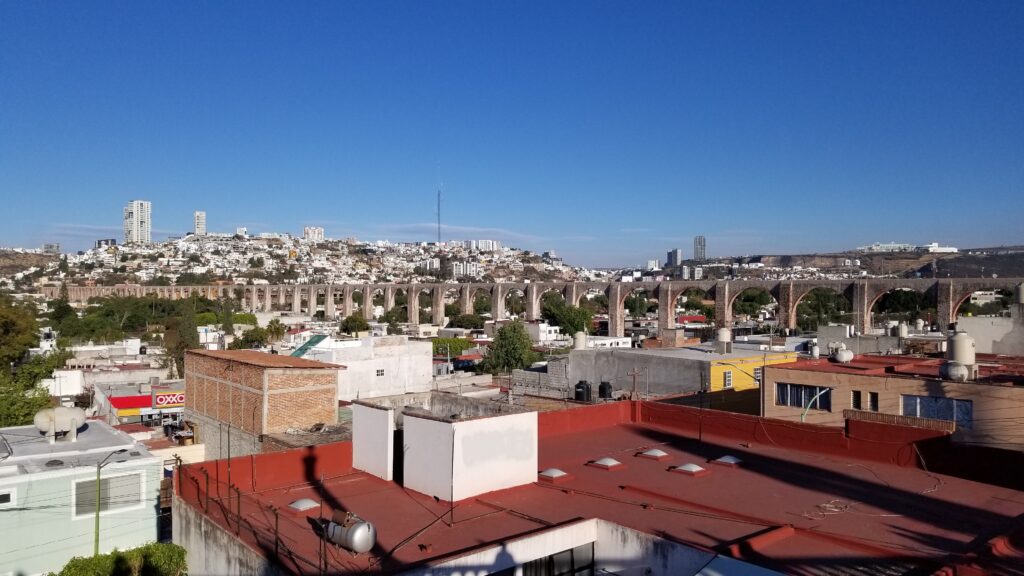 Dolores & Pyramid Ruins
On the way back to Guanajuato, we stopped in Dolores – a pueblo magico. Pubelo magicos are little towns that the country has deemed "too cute." Which they are very cute, but after seeing a few, their rarity goes away because they all kind of look the same.
It was Sunday so the main plaza was packed with people eating ice cream – this region is known for their type of ice cream so definitely try it! Street vendors will be everywhere!
We eventually stopped in a cafe – or what we thought was a cafe for something to drink, but it ended up being a full-fledged pizza restaurant, like one you would find in America such as BJ's. Needless to say, it was pretty fancy for us. So we got some fancy drinks like a fancy coffee and a milkshake!
We also stopped at some pyramid ruins. There isn't much to say about them besides how cool they are! Definitely make sure to check out some ruins in Mexico before leaving! There are ruins everywhere in the middle and south of the country so you don't have to worry about seeing this particular one.
However, I do recommend going to the big one just north of Mexico City.
Second Weekend Trip
For this second weekend, we decided to go to Guadalajara. This is not recommended so much as a weekend trip from Guanajuato as the drive is around 5 hours. However, I wasn't sure when I would be back so we rented a car again and drove it.
I think, for our first weekend trip, renting a car was perfect. However, renting a car for Guadalajara wasn't as a good of a choice. It was fine, but let me explain roads in Mexico.
Driving in Mexico
Mexico has 2 types of highways – toll and no toll. No tolls are not that bad, but they take longer
(kilometers/miles) and often cars drive slower. Tolls are faster, nicer, and more efficient with driving time; however, cost more.
Driving to and from Guadalajara was quite expensive. In total, we paid 1,000 pesos in tolls which is about $50 USD.
Now, if we took the bus, the bus would have been around 300 pesos and we wouldn't have had to worry about the actual driving part. Especially since we didn't need the car in Guadalajara.
I explain about Guadalajara and things to do in a separate blog article. You can find it here.
Guanajuato is a Must See
In conclusion, to be super formal at the end haha, Guanajuato is a must see for any traveler to Mexico and the surrounding area is amazing!
For more information about other travel destinations, use the search bar! Otherwise, don't forget to pin and share!