In all honest, there isn't much to do in Playa Del Carmen. It is not like Mexico City where there is so much to do in and around the biggest city in Mexico.
However, it is quite different than Guadalajara or Guanajuato because it is a beach town. So it offers something completely different.
If you only have a week and live in a wintery place, then go to Playa del Carmen, but if you have more time in Mexico, make sure to enjoy other parts and not just the beach.
Also, because Cancun and Playa are more touristy, prices are more expensive.
Here are some things to do in Playa del Carmen and Tulum!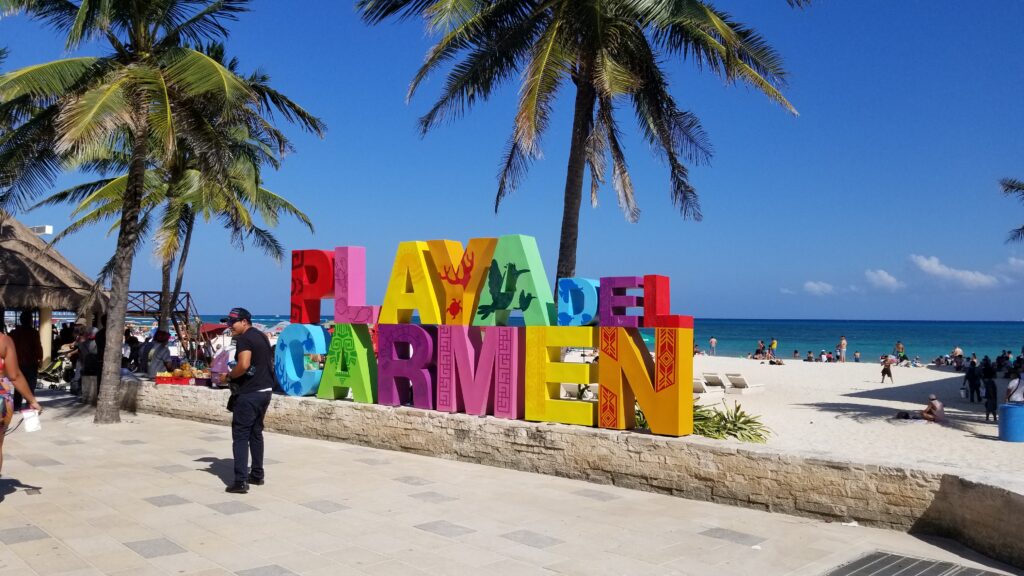 Getting to Playa del Carmen
The airport for Playa is in Cancun. From the airport you can take a bus direct (ADO) to Playa. If you booked a resort, they often have an airport pick-up.
The bus will drop you off in downtown on 5th avenue where there are all the shops and bars. Your hotel or Airbnb is probably close to there. However, the town isn't so big you could walk or take a taxi if your accommodations are further away.
If you are leaving Playa there are two buses:
1) Going to Cancun
2) Going straight to the airport
There are no Cancun then to the airport or vice versa – they are 2 separate routes.
But now you are in Playa, so what are some things to do?
Things to Do in Playa del Carmen
Because it is more of a beach resort town, the big highlight is the beach and the waters. The winter season for the Northern Hemisphere is the busiest season due to all the winter birds and because the weather isn't drastically hot and humid.
Lie on a Beach or at the Pool
The weather is perfect to get a suntan before heading home or feel the water on your skin. In our Airbnb, which was part of a hotel, people started sunbathing around 10 am and lasted until 5pm. There were shifts of people – the morning crew and the afternoon crew, but there were a few that sunbathed all day.
On the beach, there are lounge chairs, but you will need to rent those. If you start sitting in them, an attendant will run over to collect the money – be warned.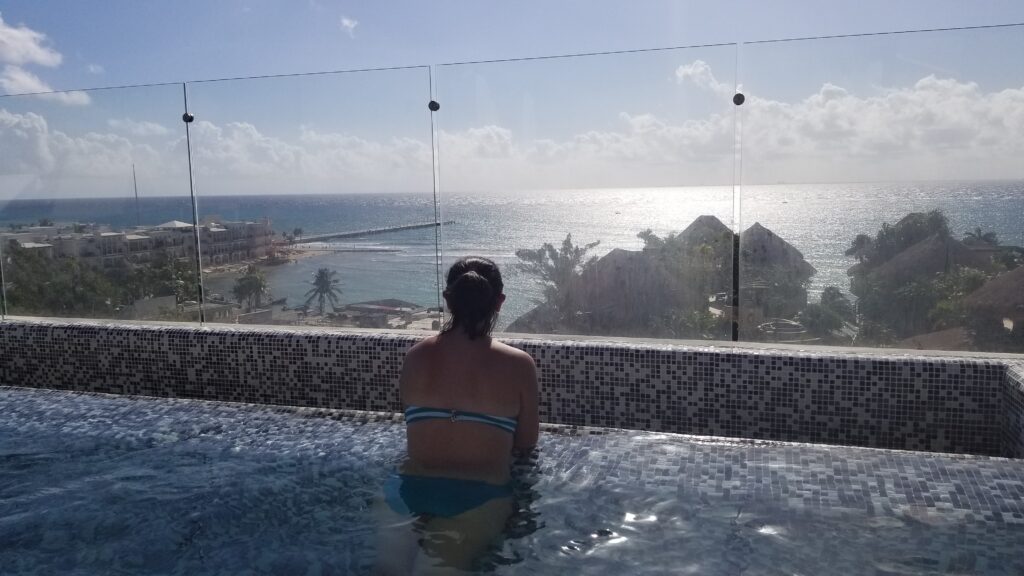 Shopping as a Thing to Do in Playa del Carmen
One or two streets from the beach is the biggest shopping street, at least for tourists, called 5th Avenue. It is fun to walk up and down it at night to people watch – see the people eating and drinking, the street performers, and just seeing how other tourists are dressed.
I never understood tourists at beach towns walking around the non-beach part in just their swim wear. I understand it is a beach town, but you can't throw on some other clothing to go to a restaurant or enter a shop? Seems rude to me.
The prices are more expensive for Mexico along this street. If you are looking for more authentic food at normal Mexican prices, head north a few blocks and east and you will come across a small food market with different restaurants.
Plus the banks near this small market have lower withdrawal fees.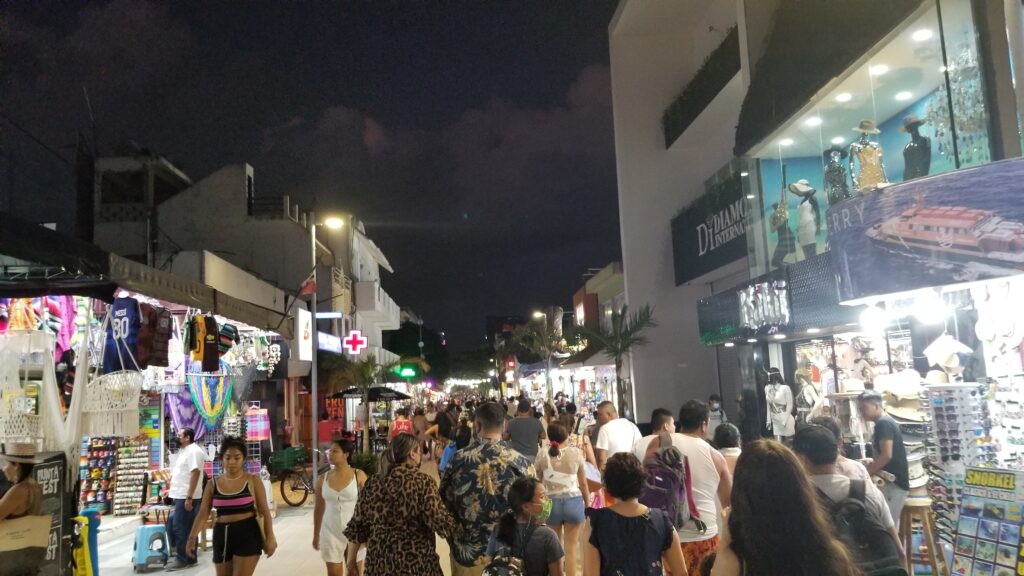 Nightlife and Day-life
Speaking of drinking, 5th Avenue holds a lot of bars that work pretty much all day. There is a few hours in the morning when they are closed to clean up and restock, but the music is loud the majority of the time. There is one corner, near the beach, that there are 3 outdoor clubs. It is amazing you can hear each DJ because they are so loud that I would think they would cancel each other out.
Things to Do in Tulum
When you aren't partying and want to do some day trips, Tulum is a popular town. It is about an hour or so away from Playa and you take a combi, which is a small bus. You can, of course, take a tour, but if you are doing it the backpacker way, the combis leave from a station several blocks away from downtown, north. It is about a 20-30 minute walk.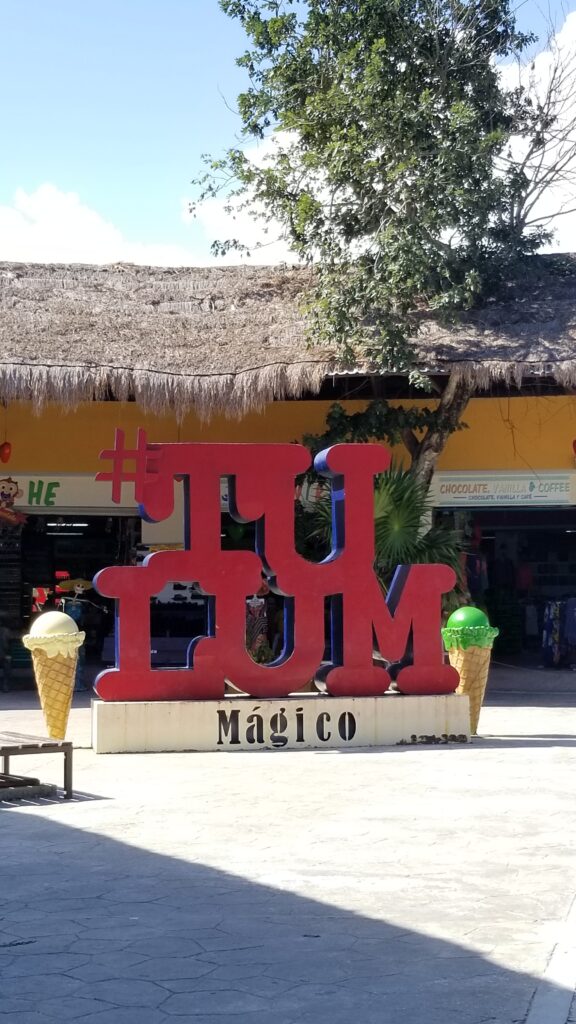 Tulum Ruins
Tulum is known for the ruins sitting on a cliff right off the beach. It is a pretty cool view. The combi drops you off at the entrance from the highway. From the highway, it is another 15 minute walk to the entrance.
Go early to beat the crowds and the heat- don't forget a hat, sunscreen, and water. Even in the morning, the line to buy tickets are long.
Of course, they don't have change, so bring exact money to pay – just like in Mexico City.
Once you are inside, you can take the time you need to wander around. Some people even brought picnic items. There is a beach access a bit away from the ruins so you can go swimming as well.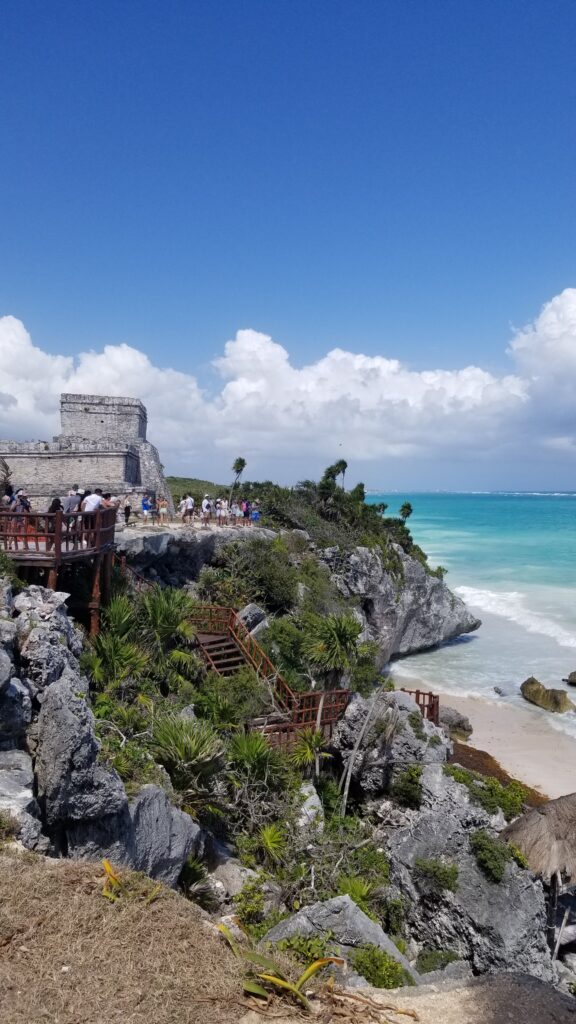 Swimming with Turtles as a Thing to Do in Playa del Carmen
In between Tulum and Playa is another town called Akumal Bay. Here, you can swim with turtles and other marine life.
As someone who has scuba dived in the Philippines, this isn't the best in the world. However, if you haven't experienced other places or are interested in seeing turtles in Mexico, it is a good opportunity.
The combi drops you off at the entrance from the highway and it is again another 15 minute walk.
Try to get there early because of the crowds. However, it is more, the more people swimming, the more sand gets kicked up and the less you can see the turtles. Plus, though the animals are used to humans, they don't like us so the more humans there the more likely the turtles won't be.
The turtles are drawn to the shallow area to eat the sea grass at the bottom, but there are other places they can eat where humans can't go.
At the time of writing and probably in the future as well, to see the turtles, you will need to be part of a guided tour.
The reason, just like in Cuernavaca and Taxco caves, is so the guide can make sure you don't do anything stupid with the turtles.
There are 2 types of tours – from the shore or from the boat. Usually the boat cost more. The boat will allow you to see some reefs and other types of fish. The tour also includes the snorkel equipment and life jacket. If you are not comfortable with swimming, you will be given other items and the guide will remain with you.
The coral reefs are not the brightest and colorful, but they are still nice to see. Once you see the reefs, you swim to the turtles and then to shore.
I managed to see about 5 turtles and one huge stingray.
My particular tour was fun because I was part of a French tour so the guide was speaking in English or Spanish and there was another person who was translating to French. As someone who speaks all three, I had a great time, but my brain was definitely confused and I was speaking a combination of all three.
In typical French fashion, the group took a while to warm up to me, but by the end (it is about an hour) they started accepting me – which is a lot faster than other French people – in my experience it can take around 2 years.
Doing the Ruins and the Turtles in One Day
As you can tell, I mentioned to do both in the morning, so how can you do both in one day? Well, you have to sacrifice something.
We did the turtles first due to the visibility issue and then suffered through the sun and the people at the ruins. It is more the heat that is the concern in the ruins.
Dealing with the Combis
Make sure to ask the combi driver how much the ride is before getting in for 2 reasons.
1) So they don't tell you a crazy price.
2) You can prepare you cash ready to pay when you get out – they are quite quick so they want you out and paid as fast as possible.
Besides the bus station in Playa, you just wave them down when they are coming down the street. They are marked so you can know which are combis and which are just normal buses that don't apply to you.
But, prices can change from combi to combi.
For example, from Playa to the turtles was about 30 pesos a person. Then from the turtles to the ruins was about 35 pesos a person. Then from the ruins back to Playa was about 30 pesos a person.
Have fun!
As always, have fun and enjoy the sun and the ocean! Please leave a comment or question and don't forget to share and pin!